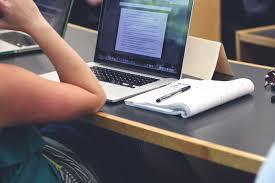 NWEA Map Testing at JHS
Cheesa Williams
Monday, September 21, 2020
Jacksonville High School will be conducting the NWEA MAP Testing for Math, Literacy and English all this week. Every 9th - 12th Grader will be expected to take the MAP test for these content areas.
The testing will be done on the scholar's Chromebook that was issued by the school. If the scholar is officially enrolled in the Virtual Academy, then he/she can take the test on their own device.
The district has set a goal to test 95% of the student population at each grade level and that is what we are striving for. All testing must be completed by the 1st of October.

Both virtual and face-to-face scholars will participate in the exam. The individual results of the scholars' testing will be used to make data-informed decisions on the areas to work on.

Scholars, please bring your Chromebooks every day and make sure that they are charged. If you have not been issued a Chromebook, please bring back the forms so that you can get a Chromebook issued to you.
We ask that the parents encourage their scholars to bring their Chromebooks to school EVERY DAY and ensure that the Chromebooks are fully charged.

We need the help of all parents to ensure that we are successful and that we meet the goal of testing 95% of our population.